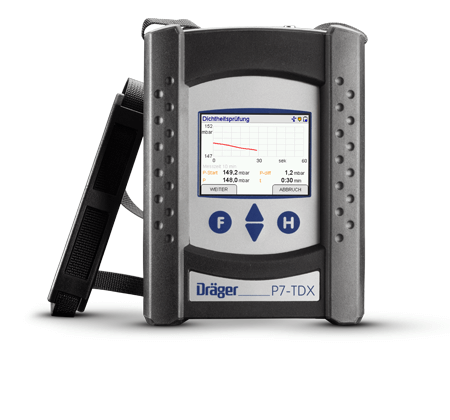 The leak tester for measurements in perfection
Our profi leak tester for gas and water is a powerful complete package solution for all relevant and legally prescribed tests on gas and water pipelines. The top pressure and leak tester Dräger P7-TDX enables you to conduct serviceability tests up to 3 bar in no time at all. You also have available up to four optional external high pressure sensors for other important measurements and efficient measurement results.

Long-term measurements

Up to 48 hour long-term measurements
Our leak tester Dräger P7-TDX is equipped with a precise method for measuring pressure including temperature and absolute pressure measurement. You benefit – you are able to conduct measurements in periods of 5 minutes or up to 48 hours without difficulty.
Your product in a measuring kit
Our analysers are also available as a kit together with all accessories in a practical case.
The Dräger P7-TDX basic set:
Dräger P7-TDX Pressure and Leak Tester
Power supply unit
USB cable
2 burner pressure hoses
High pressure hose
Bluetooth
10 bar Pump adapter
1/2" Adapter
Manual pump
PC software*
Case
*Software available for download at www.draeger-msi.de
The Dräger P7-TDX profi set:
Dräger P7-TDX Pressure and Leak Tester
Power supply unit
USB cable
Bluetooth
2 burner pressure hoses
High pressure hose
10 bar Pump adapter
1/2" Adapter
Pressure sensor 25 bar
Manual pump
PC software*
Case
*Software available for download at www.draeger-msi.de
Product benefits