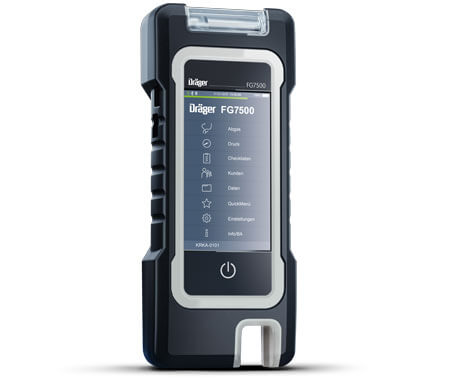 Slim, even more robust, absolutely light and easy to grip, pleasant to hold – that's the new Dräger FG7500, which is approved according to DIN EN 50379 part 1 and part 2.
Our intelligent, high-performance flue gas analyser for service and maintenance work on oil and gas firing systems impresses with its innovative technology. Because of its new design it can be easily operated with one hand.
Highlights
New user interface
The high-resolution color touchscreen with the new operating concept ensures easy handling. The device software forms an optimal unit with our app Dräger mCon. This makes it easier to process the measurement results.
Bluetooth LE
Optimal connectivity to the smartphone or tablet.
Robust housing
The further developed housing is robust and yet slim and light. This enables pleasant one-handed operation.
Preconditioner
The preconditioner is protected in the device. Thanks to an innovative plug-in system, it is very easy to install and remove, so that the filter material can be cleaned and replaced quickly.
New connection technology for pressure measurements
The new bayonet connections guarantee an even easier connection with the accessories.
Probe system
The probe system ensures easy handling and a secure connection. The LED shows the optimal position in the core stream.
Your product in a measuring kit
Our analysers are available as a kit with accessories inside a practical case.
The Dräger FG7000 set includes:
Dräger FG7500
Plug-in charger
USB cable
Gas probe with integrated draft measurment
Gas pressure hose with bayonet connector
Equipment case
Consumable set FG7500
Bluetooth LE
Software
The Dräger FG7000 set NO includes:
Dräger FG7500
Bluetooth LE
Plug-in charger
USB cable
Gas probe with integrated draft measurement
Gas pressure hose with bayonet connector
Equipment case
Consumable set FG7500
NO measuring channel
Bluetooth LE
Software
Special features of the flue gas analyser FG7500