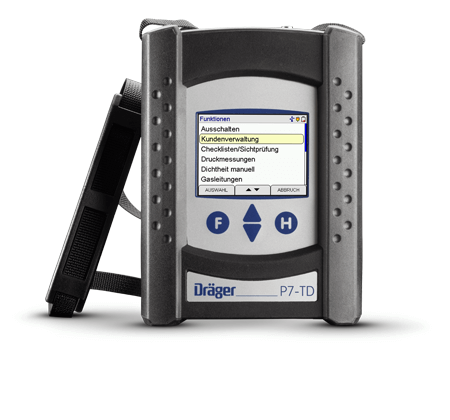 Pressure, Leak and Leak Rate Measurement
Quicker, better, easier. Our high-performance leak analyser Dräger P7-TD is the clever complete package solution for all your required and legally prescribed serviceability tests of gas and water pipelines – and only with a single device. Thanks to the comparison leak method used by the P7-TD you complete the measurement of the leak rate exceptionally quickly. The clear design of the colour touch screen ensures intuitive and amazingly easy operation. Also included: The integrated help function, equipped with Bluetooth as standard, a shock and impact-proof housing as well as professional documentation – incl. measurement diagrams using Dräger PC software – make your measurements easier, more reliable and more efficient.
Measurement
All the Measurements in a Single Device:
Whether stress testing, testing for leaks or conducting usability tests for gas pipelines pursuant to TRGI 2018 – your Dräger P7-TD takes measurements with reliability and without making compromises.
Your product in a measuring kit
Our analysers are also available as a kit together with all accessories in a practical case.

The Dräger P7-TD Set inclusive:
Dräger P7-TD Pressure and Leak Tester
Power supply unit
USB cable
Bluetooth
2 burner pressure hoses
High pressure hose
10 bar Pump adapter
1/2" Adapter
Manual pump
PC software
Case
*Software available for download at www.draeger-msi.de
Part Nr.: 56 03 092
Product benefits